Nue recognized by state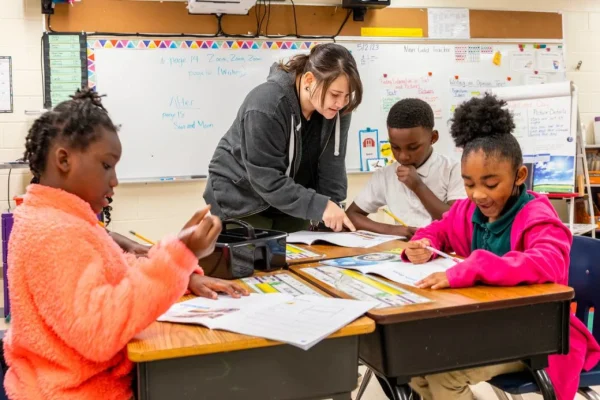 Pamela Broome teaches four small reading groups every day at Niner University Elementary, a public lab school experts at The University of North Carolina at Charlotte created and opened in 2020.
Broome, who has more than three decades as an educator, knows kids need as much small-group or one-on-one time as possible when it comes to literacy. It's why Broome has to block out her packed schedule to ensure nothing interrupts those small reading groups — she's also the school's principal.
"Every person in this building understands literacy needs," Broome told The Charlotte Observer. "We intentionally schedule and plan so each child gets what they need."
Niner University's all-hands-on-deck approach embodies why UNC Charlotte is a statewide leader in training teachers to help children learn to read, according to a University of North Carolina Board of Governors report released in January. In a review of 15 state universities, only UNC Charlotte received a grade of "strong" when it came to its teaching methods. It's the highest grade an institution can receive.
It's also part of the work that prompted the Mebane Charitable Foundation, a nonprofit based in Mocksville, to select UNC Charlotte's Cato College of Education for a five-year grant and potential endowment of up to $23 million to create a new literacy center. UNC Charlotte was the top finisher in a competitive statewide search, in part, because of how it preps teacher candidates on how to teach literacy. The gift is one of the largest in the university's history.
"We're doing well at UNC Charlotte," said Malcolm Butler, the dean of UNC Charlotte Cato College of Education. "But there is a larger challenge for all of us."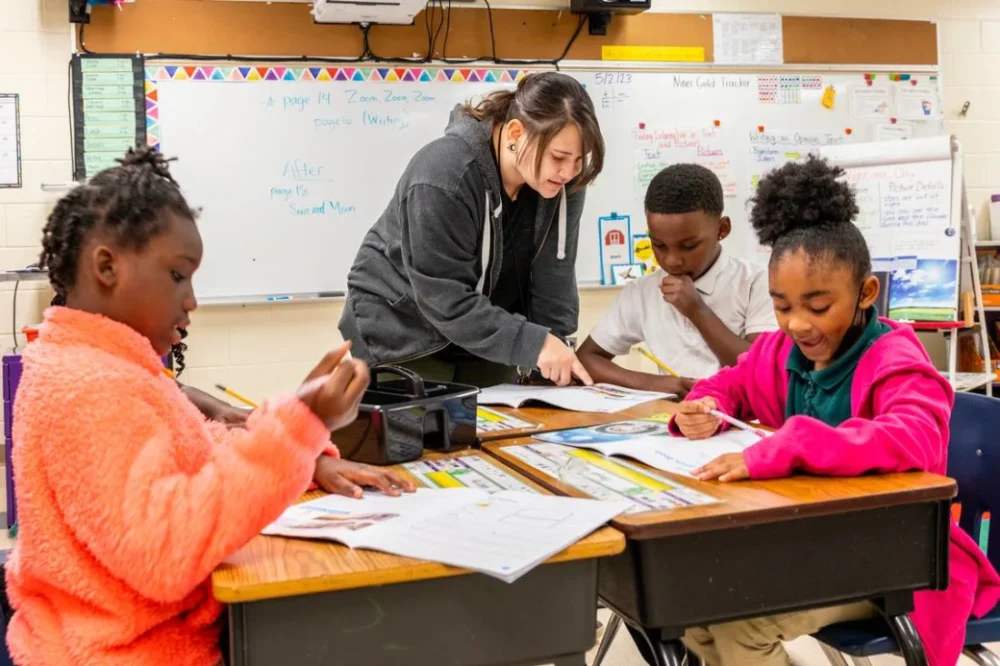 While the rest of the state's colleges are trying to catch up with "the science of reading" and better preparing prospective teachers on how to teach literacy, Cato College students and educators are iterating on their literacy efforts, Butler says. The National Assessment of Educational Progress (NAEP) report found that only a third of North Carolina's third graders were proficient in reading in 2022.
Niner University Elementary is where many of the Cato College's teaching candidates spend time working on teaching fundamental literacy skills. They're trained by and have opportunities to work with faculty who provide evidence-based reading instruction.
Butler says faculty also incorporate a "whole child" approach to their work, meaning they ensure students have access to mental health, nursing and other social supports outside the classroom.
Zoe Klein is among the teaching candidates. The Cato College senior and teacher in training at Niner University will graduate in December.
"The priority the university puts on literacy is very strong," Klein said. "It's made me a competent instructor and I know I'm going to be ready on day one."
Klein, who's led dozens of reading lessons, says understanding roadblocks to literacy is key. For students at Niner University, a K-4 program intended to support struggling students, that means helping them get their hands on a book or giving them the confidence to learn.
"They're coming from a place where you have to help them believe in what they can do," Klein said.
Paola Pionieta, a Cato College professor of reading and elementary education, is also a coordinator of the undergraduate reading program. She is one of eight literacy fellows tasked with developing a plan that reflects what research says about the essential components of reading. The plan also must align with statewide initiatives.
Pionieta says Cato College faculty focus on proven approaches to teacher preparation in literacy — reviewing assignments and tests and watching video of teaching and instructor interviews.
"That science of reading has always been our core," Pionieta said. "When the state said this is where you should be, we've always just been there. Now it's constantly revising."
Scaling Niner University Elementary
Niner University Elementary, with an enrollment of under 200, has fewer than 15 students per class on average. Every classroom has a teacher assistant. Every student receives 30 minutes of small group or individual instruction every day. Students also are reassessed every 10 lessons.
"It has changed outcomes for us," Broome said. "There are a lot of factors when it comes to literacy, primarily is student readiness. We have kids who come to school and they can already write a full sentence, and they're sitting across from a child who is holding a book upside down. You have a group of very diverse learners. That's why they each have individual needs."
Even though Niner University is smaller and has Cato College support, its literacy plan can translate to districts with much larger student populations, Broome says. She says a literacy plan at larger schools requires time, scrutiny over data and educators who understand literacy needs.
Niner University also relies on after-school programs and targeted interventions. Most importantly, its young students and college students are working together to prioritize literacy.
"When (Cato College) students spend time here, their readiness to be in a classroom is so much improved when they walk way from here," she said.