UNC Charlotte Develops Community Garden at Niner University Elementary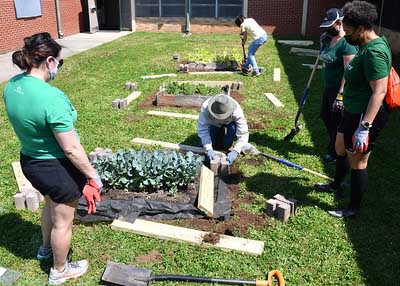 On April 21, as part of National Volunteer Week, Facilities Management (FM) partnered with Niner University Elementary (NUE) to develop a student garden on the school's campus. FM employees worked to frame and build raised garden beds and plant perennials for students and teachers to use as part of their outdoor classroom education. Vegetables and other plants will be placed in upcoming days by NUE students, teachers and parents.
"The gardens will provide a great learning opportunity for children to experience hands-on science," said NUE Principal Pamela Broome. "Additionally, students will participate in culinary activities that will likely include vegetables grown here on campus."
Students will be able to work in the gardens alongside teachers and volunteers to plant, care for and harvest crops. Vegetables grown in the gardens will be shared with students and their families, providing valuable lessons of hard work, dedication and understanding farm-to-table.
"This experience was a great example of creating synergy between campus partners and departments, allowing for many colleagues who typically wouldn't interact with NUE an opportunity to come to the school and make an immediate impact," said Jordan Harris, associate director of Community Relations at UNC Charlotte. Broome also noted the full-circle engagement from FM, as FM employees Amanda Caudle and John Boal both served on the NUE Core Design team and also showed up to volunteer.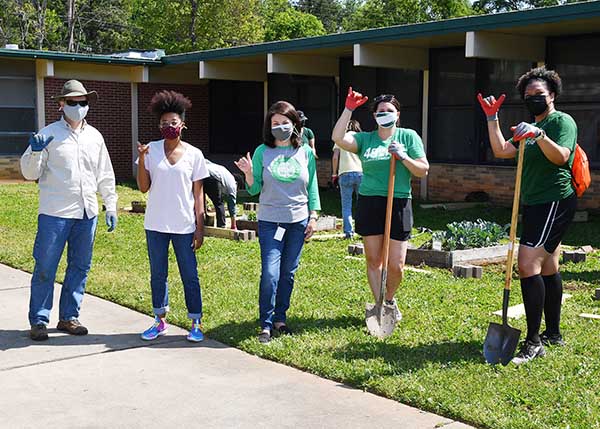 When school isn't in session, the gardens will be maintained by NUE staff member Karen Carbonell, described by Broome as being a "passionate gardener," along with other teachers, students, parents and community members who have partnered with NUE to support this year-round endeavor. Carbonell is also leading teachers and volunteers to plan and execute seasonal planting and harvesting.
This garden area fits into UNC Charlotte's sustainability goal of encouraging students, faculty, staff and community engagement. "We often use projects that help people develop a skill, such as gardening, and encourage them to make a personal connection to the environment and to the larger sustainability initiatives of the campus," said Mike Lizotte, University sustainability officer.
"We were extremely excited to have FM team members on our campus," said Broome. "NUE is a University school, so physically building this garden together is symbolic of the seeds we are planting with our youngest Niners. I can't wait to see what blooms!"
This event would not have been possible without the tireless efforts of Charleata Neal, Krista Collins, Pamela Broome, Jordan Harris, Mike Lizotte, who were the core organizers of this endeavor.
Top photo, left to right, Mike Lizotte, Jordan Harris, Pamela Broome, Krista Collins and Charleata Neal. More images are online.